New!
Click on a book cover for more information.
2017 National Book Award Winner, Young People's Literature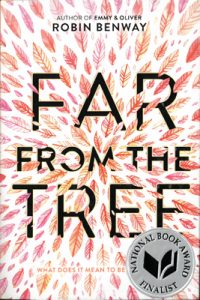 Being the middle child has its ups and downs.
But for Grace, an only child who was adopted at birth, discovering that she is a middle child is a different ride altogether. After putting her own baby up for adoption, she goes looking for her biological family, including—
Maya, her loudmouthed younger bio sister, who has a lot to say about their newfound family ties. Having grown up the snarky brunette in a house full of chipper redheads, she's quick to search for traces of herself among these not-quite-strangers. And when her adopted family's long-buried problems begin to explode to the surface, Maya can't help but wonder where exactly it is that she belongs.
And Joaquin, their stoic older bio brother, who has no interest in bonding over their shared biological mother. After seventeen years in the foster care system, he's learned that there are no heroes, and secrets and fears are best kept close to the vest, where they can't hurt anyone but him.
View winners here or visit YALSA Teens' Top Ten.
Who?

Meet your YA Librarian!

Kenneth Roman

Graduate of Syracuse University with a Masters in Library and Information Science/School Media Specialist

Graduate of Binghamton University Bachelor's in History and English

Favorite Book Series: Harry Potter

Interests: Folk and Fairy Tales, Mythology, Musical Theater

What's Your Librarian Reading?




Click on a book cover for more information.
Volunteer?
Interested in volunteering @ the GFJ Library?
If you're interested in volunteering, check with Kenneth for information. (Contact Kenneth at en.roman@4cls.org.) Teens are welcome to volunteer during our summer programs.
Volunteer Activities Include:
Sort books in circulation area.

Shelve books in Adult, Young Adult and Children's departments.

Shelf reading, straightening, and shifting of books.

Help prepare for story time crafts and other activities.

Set up or take down chairs in meeting room for programs.
By Volunteering:
You can have an opportunity to learn and practice a variety of job-related skills.

You will have an opportunity to meet new people.

You can get volunteer experience for college, scholarship and job applications and recommendations by your supervisor.

You have access to the staff room. (Free food!)
Info!
Young Adult Department Mission Statement
The mission of the George F. Johnson Memorial Library Young Adult/Teen Department is to give teens access to resources and programs that will allow them to explore, discover, and understand themselves and their unique interests, as well as to develop skills in literacy, leadership, STEAM, and digital and social citizenship.