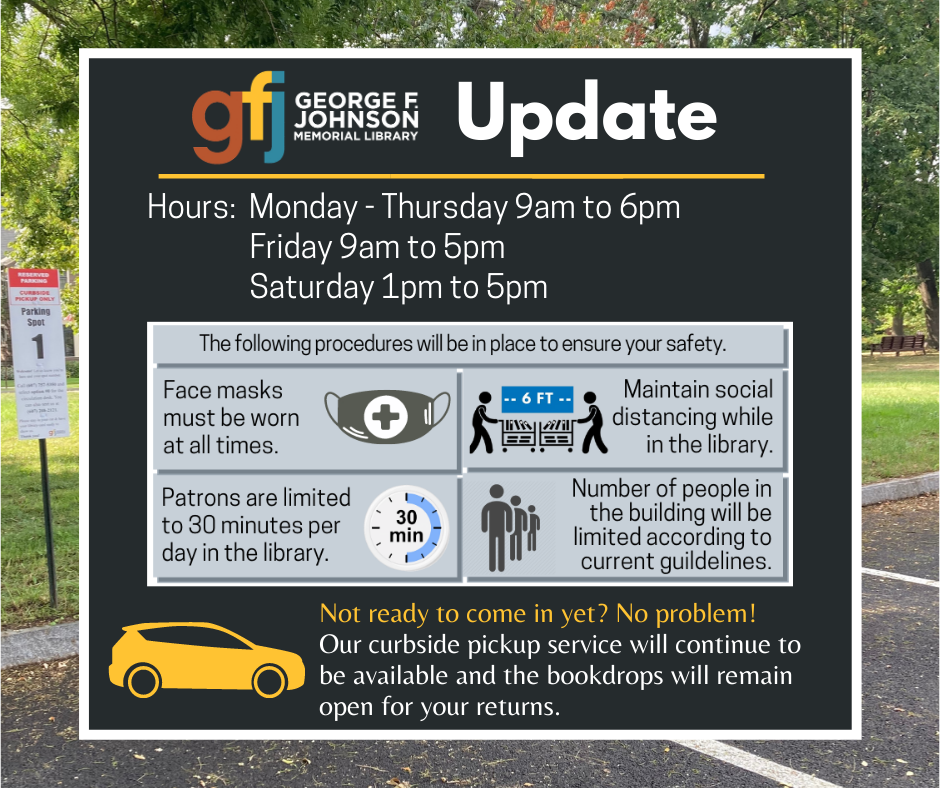 We have curbside service! Please visit our Curbside Service page for instructions and information. You may also call the library at (607)757-5350 for references services.
Please feel free to put your materials in our book drops at any time. Items will be quarantined for three days before being checked in. The safety of our patrons and staff is our primary concern.
We are not accepting book donations at this time and all Friends of the Library Book Sales have been cancelled until further notice.
Thank you for your continued support. Stay safe and healthy!
---
This will show results for all libraries in the Four County Library System. You can choose to include only items from Endicott on the top left of the results page.
Looking for eBooks and audiobooks? Visit Overdrive or download the free Libby app.
---
Log in to review your account, renew materials, or pay fines by credit card.
---
---
What's new @ GFJ Library?
Check out these recent posts from our Facebook page!
Did you eat hard-boiled bugs for breakfast? Even if you didn't, we have some new non-fiction for you in the children's room! Stop in or check them out at http://library.booksite.com/7198/nl/?list=CNL10&group=current
What a great opportunity for young writers! Check it out! #wskg
The Teen Book Box Program is a success!!! Register now to get on the list for your teen book box.