Money Smart Week @ the GFJ Library
Money Smart Week® is a public awareness campaign designed to help consumers better manage their personal finances. Organizations come together once a y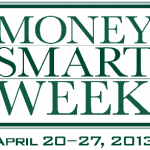 ear to stress the importance of financial literacy, inform consumers about where they can get help and provide free educational seminars and activities throughout the week. Programming is offered to all demographics and income levels and covers all facets of personal finance from establishing a budget to first time home buying to estate planning.
On Thursday April 25, the GFJ Library will
present two free programs:
First Time Home Buying – 10:30-12:00 in the upstairs meeting room. Join us for an overview of the home buying process from start to finish. Presenters will be Helen Ackerman from Hage Real Estate, with over 10 years in the Real Estate business and John Birkmier from SEFCU Mortgage Services, with over 20 years in the Mortgage field. There will be time for questions and answers at the end of the session.

Save Energy, Save Dollars Workshop – 1PM – 3PM in the upstairs meeting room.
Presenter: Cornell Cooperative Extension of Broome County, Paul Suarez.
Learn about low-cost and no-cost ways to save energy and reduce your energy bills. Also learn about programs that can help you afford energy-efficiency improvements with subsidies, low-interest loans, or FREE services to qualifying households. Participants receive a free gift for attending.
Check out our book displays and those attending story times will receive a free gift to celebrate Money Smart Week®.