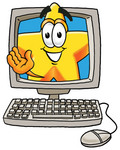 Would you like to become a Computer Star?
Starting July 9th the PCC will be offering a 5-week program for computer literacy! Come in for all 5 Saturdays to become a Computer Star! Sign up online, in person, or over the phone. Classes covered are Understanding the computer, Keyboard Basics, Files and Folders, Beginning Internet, and Beginning Word. Don't miss out!
Click here for more information on the the PCC.